The warmer weather is upon us, and you'll be spending way more time outside in the sunshine, catching those rays and topping up your vitamin D. For you to have the energy to enjoy each day, with the early sunrises and late-night BBQs, you'll need to be in great physical condition (so that you can be the last one leaving a warm-weather get-together). The following are some areas you might want to consider when it's time to get your body and mind into a healthy place this summer.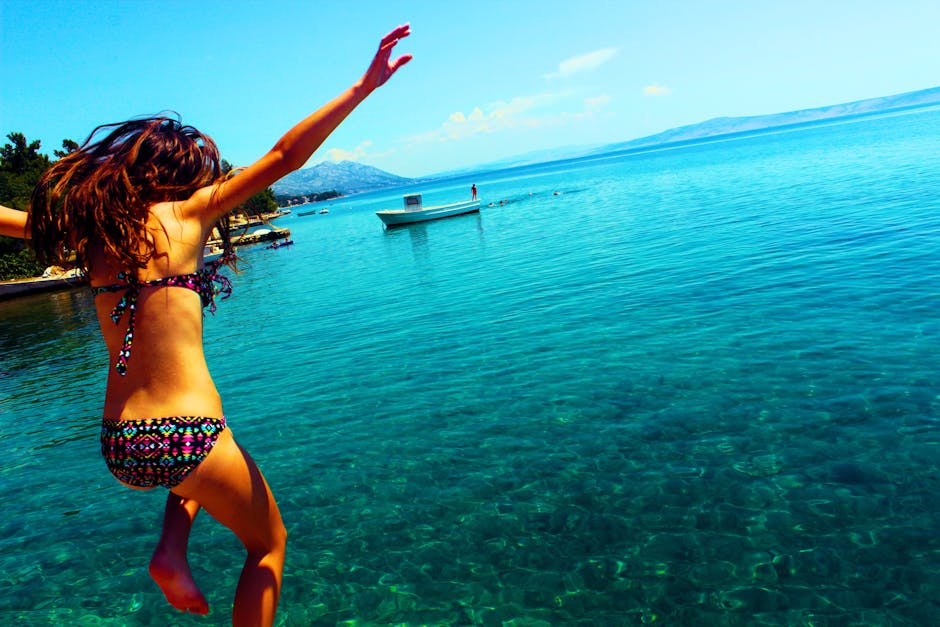 Image source: https://www.pexels.com/photo/woman-wearing-bikini-jumping-to-the-beach-191741/  
Your Diet
When the weather is hot, it's tempting to drink copious amounts of cold soda and eat ice cream after each meal; however, all that refined sugar is a sure way to make you feel lethargic, run down and unhappy. You'll get an instant hit from the glucose or fructose you've consumed, but it won't be long before your body crashes, and you're sleepy, with a rumbling stomach.
Consider making your own fruit ice lollies, so you know that the sugar in them in all natural, and you can control the amount. You could also look into healthier alternatives to ice cream, like frozen yogurt, which can be whipped up on your weekend, and you and the family can help yourselves throughout the week. Fizzy sodas will not only give you way too much refined sugar in one hit, but they can also leave you bloated, which may affect your confidence when you're hanging out in a bikini. Get creative in the kitchen, and check out some healthy hot weather recipes on Pinterest. Remember that whatever you put into your body will have a direct effect on how you're feeling, your energy levels, and whether or not you're glowing from the inside-out.
Your Fitness
Summer is the perfect time to get outside and become more active; so get your workout clothes on and start enjoying the weather. Regular exercise, whether it's walking, jogging, or running around your local park, will ensure that your body stays in great shape, and it will release endorphins, which will help to keep your smile beaming as much as the sun.
Working out doesn't have to feel like grueling exercise either; spending an hour or so out in the garden, playing games with your kids, will keep you fit and burn off those fruit lollies you ate earlier. Make an effort to get outside each day to get your circulation and heart rate going, and you'll become a super-fit version of yourself before you know it.
Your Well-Being
Relaxing and taking some time to look after your mind is also vitally important when it comes to your body's overall health and well-being. So, whether reading a book or having your nails painted is your idea of heaven; ensure that you make space in your schedule to indulge in your favorite activities to reset your body and give your energy a boost. If you're happy and healthy on the inside, from head to toes, you'll be radiant on the outside, and people will be asking what your secret is (you can point them in the direction of this blog obviously).